In 1969; Toffler, a prominent scholar, made an interesting observation by stating that "values are so inextricably woven into our language, thought and behaviour patterns that they have fascinated philosophers for millennia. Yet they have proved so "quick-silvery" and complex that, despite their decisive role in human motivation, we remain desperately ignorant of the laws that govern them."
Significant contributions were made by scholars in this field since the late sixties, although ambiguous areas remain present. In this article, we aim to understand the forces that shaped human values and the laws that govern them from historical and modern perspectives.
Values – Definitions and Perspectives
In his book 'Beliefs, attitudes, and values: A theory of organization and change' published in 1968, Rokeach defined the concept of values in a way that became widely accepted among scholars. He stated that in their essence, values are "abstract ideas, positive or negative, not tied to any specific object or situation, representing a person's belief about modes of conduct and ideal terminal modes" the author adds that such values transcendentally guide actions and judgments across specific objects and situations.
Examining values held by individuals and organizations is of considerable significance because it influences behavioural choices and attitudinal processes. Values also shape one's attitude towards life, including political, social, and economic issues. Theodorson and Theodorson convey this beautifully in their book 'A modern dictionary of sociology' by asserting that "an attitude results from the application of a general value to concrete objects or situations".
Discussing values is also important to further our understanding of societal influences. However, values held by individuals differ across members of the same society due to varying levels of socialization and internalization. The overarching values within the society tend to prevail as it is believed that individual values may be pressured by social expectations and other measures to conform to dominant social values as asserted by Schwartz; a leading scholar in the field.
Historical References to Values
The human consciousness has long been preoccupied with the notion of values. Ancient philosophers have invested significant thought and theory into this field though debating and establishing ethical standards. Ethics is a branch of philosophy that distinguishes between 'right' and 'wrong'. In its most generic form, the field of ethics encompasses both values and morality.
Manuscripts containing references to values have been found in ancient Egypt and Sumer where the Egyptian' Instruction of Amenemope' and the Sumerian' Farmer's Almanac' advised the population to uphold human values.
Values in Ancient China- an Example from the East
Ancient Chinese ethics is largely associated with Confucian ethics which is commonly understood as virtue ethics. Confucian ethics has also been regarded as a religion or as a way of governing life. This school of ethics developed from the teachings of the Chinese philosopher Confucius (c. 551 BCE – c. 479 BCE) who carried the values upheld by philosophers from the Xia (c. 2070 BCE–1600 BCE), Shang (c. 1600 BCE – c. 1046 BCE) and Zhou (c. 1046 BCE –c. 256 BCE) dynasties.
Confucian ethical codes are described as humanistic and are embodied in five constant virtues, namely, integrity, knowledge, proper rite, righteousness or justice, and benevolence or humaneness. Those five constants are achieved through righteousness, contingency, filial piety, loyalty along with other elements that are important; however, less central to achieving the five constants.
Values in Ancient Greece – an Example from the West
Ancient Greece made significant contributions to the fields of values and ethics through the concept of 'Aretē' which means the act of living one's full potential and fulfilling the purpose of living. However, it is important to note that those concepts were presented in a purely philosophical form which rendered them challenging to comprehend by the average person. For example, Heraclitus (c. 535 BC – c. 475 BC) argued that in the divine reality, everything is just an injustice only seen through human's eyes.
Socrates (c. 470 – c. 399 BC), who was renowned for his contributions to the fields of ethics and epistemology, is another Greek philosopher whose name became associated with the theorization of human values. He asserted that the best way for humans to live is by pursuing virtues, a sense of community, and friendship rather than material wealth. The end of his life was a testimony for his values as he accepted death by execution instead of escape. Historians believe that he remained consistent with his values, namely, accepting the will of the community. However, it must be noted that some scholars believe that Socrates held controversial values that were not consistent with today's universally accepted principles. For example, in Plato's dialogue the Republic, which is one of the best-known accounts of Socratic dialogues, Socrates asserts that democracy is not a viable arrangement. He provides an alternative by stating that the philosopher is the only type of person suitable to govern others.
Aristotle (384 BC -322 BC) built on Plato's accounts with some variations as he valued the goodness embodies in happiness and prosperity but not necessarily 'good' as an absolute. He emphasizes certain virtues such as justice, prudence, temperance, and courage.
Where the East Meets the West
The teachings of the Confucian Ethics influenced several western authors and philosophers. Voltaire, a renowned French scholar, praised Confucian Ethics by stating that "Confucius has no interest in falsehood; he did not pretend to be a prophet; he claimed no inspiration; he taught no new religion; he used no delusions; flattered not the emperor under whom he lived…"
It is increasingly common to understand and interpret Confucian ethics as one centred around virtues. Some scholars view this as true and uncontroversial, while others believe it is a case of reducing Confucian ethics to be seen through the lenses of western values. The latter argue that the characteristics of virtues in Confucian are more specific, and some might claim they are more constrained than the western sense of virtues.
It is understood, however, that there is not enough literature on the classical period to help answer some of the questions that western scholars have on this topic. Yet, an area of agreement is that both Greek and Confucian ethics focused on ideals of the kind of person that one should aspire to be.
Modern Research into Values
The field of ethics and values became further institutionalized with the introduction of the Kantian Ethics by Immanuel Kant, who became an authority in this field.
Kantian Ethics
Immanuel Kant (1724–1804); a German philosopher developed what is now called the Kantian Ethics Theory or the Deontological Ethics Theory. It centres around the idea that an action is considered moral if the principle deriving it is in line with moral law and arises from a sense of duty, in other words, reason and intentions determine the morality of the behaviour.
The value of duty is central to Kant's work. He argues that goodwill is the only value that is unqualifiedly good because other values can derive an immoral end.
Kant proposes the universality and the law of nature formulation, in which he argues, that true moral values must not be connected to any external conditions including the desires and the identity of the person making the moral deliberation.
Kant makes an interesting proposition to help us evaluate the values that derive our behaviours and actions through the law of nature by requesting that one should ask themselves; what if the maxims, i.e. intentions behind this act were to become a universal law of nature?
Furthermore, Kant argues that every moral action must be driven from a righteous maxim; in addition to that, it is to be positioned towards a set end. Furthermore, and as asserted in his book' Grounding for the Metaphysics of Morals'; humanity, should never be treated as a means to an end but always as the end itself.
Kant offered some controversial thoughts concerning the rationalization of acts. For example, animal cruelty is considered wrong not because it is a violation of the wellness and the safety of other beings but because it is a violation of one's duty to himself to be more compassionate.
Deliberating Values as Part of Other Disciplines
Today, the concept of values branched out of philosophy into other disciplines. One of the fields that discusses values in depth is Business Administration, where values have been researched at the individual, organizational, institutional, and national levels.
Organizational values, otherwise known as corporate values, is a set of values that determines the long-term wellbeing of an organization as it articulates the ethics that guide the internal and external conduct of the organization. This is an essential aspect that is often communicated to stakeholders and parties in the external environment through the statement of mission.
The statement of mission, being a declaration of the company's core purpose and focus remains unchanged over time as it reflects, in part, the constant human values that derive its operations. In a way, this relates to Kant's theory on maxims, where the act is assessed and justified by its deriving intention.
It is customary for organizations to state their statement of mission as stakeholders are more likely to align themselves with organizations that adhere to the same set of values as their own.
Most Prominent Modern Theories on Values
Schwartz, who published the 'Universals in the Content and Structure of Values: Theoretical Advances and Empirical Tests in Twenty Countries' in 1992 provided a thorough description of values and their structure. The author positioned values as both an expression of – and reason for – the fulfilment of basic human needs.
The theory put forward by Schwartz on the relationship between values and basic human behaviour identifies fifty-six values that cluster into 10 motivationally distinct value types. It is important to note that although the theory put forward by the author is distinct; he has built upon earlier work done by Rokeach in 1973 who defined values as "concepts or beliefs, which pertain to desirable end states or behaviours, transcend specific situations, guide selection or evaluation of behaviour and events, and are ordered by relative importance".
The thoroughness of Schwartz's research rendered him an authority on the subject. He provided persuasive evidence that 44 of the 56 of the originally examined values have the same meanings across cultures and can be clustered by the motivational goals they articulate.
Schwartz categorically distinguished values and worked on understanding the value structure dynamic, i.e. the relations among them. To further understand the value structure, it is useful to view structure as being derived from the fact that actions taken in the interest of the pursuit of a particular value appear as more or less compatible with the pursuit of other values.
Compatibility and contradiction of values is a vast area of research. For instance, actions that express traditional values are more likely to be compatible with actions that express security values. The author asserts that a person can pursue incompatible values; however, this is not deemed possible in one single act. The author created a model that went on to become a reference point on scholar's understanding of individual values, namely the Schwartz's structural model, which explains the extent to which a particular value is supposed to conflict with or complement other values.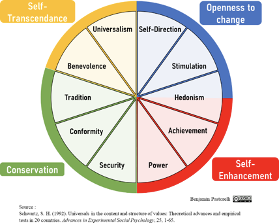 On the circle illustrated above, Schwartz offers a motivational continuum that reflects the mutual compatibility and conflict of basic values. It is organized in a way that positions psychologically similar values concerning their motivational content next to each other while values that are likely to motivate conflicting behaviour opposite to each other (in opposing sides of the circle).
According to the author, values are considered determinants of attitudes and behaviour; they transcend objects and situations and are central to a person's cognition which is why the number of values is relatively small.
Although the theories and model put forward by Schwartz are foundational, his work and, in particular, the theory of universals in the content and structure of values has been validated and cited in hundreds of studies around the world, which were done both on convenience and representative samples. It was also noted that different instruments for assessing values were used in those studies. The results confirmed the central assumptions of Schwartz's values theory across cultures, even when based on instruments that were not developed in the context of Schwartz's theory itself.
Organizational Values
When discussing organizational goals and visions, it is inevitable to discuss values. However, management in some industries pushed back on the notion of making the organization value-centric for fear of replacing the centre objective, which is to maximize shareholders' wealth and for fear of replacing traditional regulations with a set of, often loosely described, values. In response, researchers in the field of organizational values assert that rendering an organization value-centric should not suspend traditional means of regulation. It is proposed that when positioned correctly, values can install limitations on possible violations and create opportunities such as simplified decision-making processes.
In organizations, values are strengthened or weakened depending on the number of employees who comply with them, and the degree to which management places emphasis on sustaining them. Put in other words, organizational values can expire due to low commitment. It is also important to note that the fundamental values closely connected to human principles and those connected to the corporate or individual identity cannot be chosen, they are default in the organization and violating them will likely cause resistance.
Values connected to identity are a controversial matter in the corporate world. On the one hand, positive identifications enforce the moral position of the organization and prompt entities in the external environment who associate with such values to align with the organization. On the other hand, it emphasizes an 'us' versus 'them' mentality.
The discussion of values in organizations highlights the need to understand organizational culture as it is the medium in which values are communicated, reinforced, and changed.
In their book 'Organizational Culture and Leadership' Schein and Schein defined organizational culture as "accumulated learning [that forms] a pattern or system of beliefs, values and behavioural norms that come to be taken for granted as basic assumptions and eventually drop out of awareness."
Researchers found that although individuals may have specific preferences in terms of values, organizations can provide a powerful context of normative ways to manage matters and thus, mainstreaming the values that are given a space to operate.
A number of organizational culture models have been debated among academics; some are based on the premise that a comprehensive view of culture must acknowledge its hidden parts. This category involves Schein and Schein's organizational culture model that was published in 2017, in addition to Rousseau's model, which divides organizational culture into 'outer-rings' representing the signs of culture that are more visible and 'inner-rings' representing the hidden feelings developed by it. In addition to that, the Iceberg model developed by Herman makes a clear distinction between the formal (overt) aspects of culture, including technology, structures, policies and systems, and the informal (covert) aspects of it, which include perceptions, values, attitudes, and beliefs.
Models based on different theoretical foundations have also been established, such as Deal and Kennedy's model, which is based on risk and feedback. In addition to that, Harrison and Handy developed a typology based on hierarchy, matrix, web, and scatter, while Denison and Mishra discuss the top-down vision versus a bottom-up involvement and examine consistency in relation to adaptability. Furthermore, Cameron and Quinn established the Value Framework Model, which is based on flexibility and discretion versus stability and control, in addition to internal focus and integration versus external focus and differentiation within a company.
An organization interested in examining its values and those held by its employees should do so with due consideration to the organizational culture.
Take Away
Values have been an integral part of human progress for centuries. They have been explicitly debated among philosophers, institutions, scholars, and businesses.
We would imagine that if one of the formerly discussed philosophers were present in this time, they would remind us that the application of values should, in principle, be in line with the purpose of values, in that it should be an expression of a desire for the act of virtue.
Value-based considerations in today's markets do not show which values the organization truly stands for but rather, which values are considered profitable to uphold. Pragmatism, some would argue, not necessarily values.
Both individuals and organizations can operate with more values and assume greater sensitivity, which includes genuinely considering matters that might not directly factor into the bottom line but would, nonetheless, positively impact the organization's position in the market.
Individuals and organizations considering this should be aware that committing to sustaining more values translates into the need to process more information. This can be complex and time-consuming when many feel that they are already stretched in terms of resources and attention to core activities that sustain the entity.
However, this does not have to be a costly endeavour. Organizations can increase their sensitivity by engaging in meaningful and fully rounded dialogues with all stakeholders, including employees, customers and clients. They can go beyond that to include environmentalists and neighbours to become aware of factors that are not highlighted in business meetings and balance sheets.
The benefits of values-aligned organizations are many and have been highlighted in many independent studies. In the future, grouping people around shared values – and respecting value diversity – will be critical to success in a complex and uncertain world.
References:
Kant, I., 1785. Grounding For The Metaphysics Of Moral. Indianapolis: Hackett Pub. Co.
Rokeach, M. (1968). Beliefs, attitudes and values: A theory of organization and change. San Francisco, CA: Jossey‐Bass.
Schein, E. and Schein, P. (2017). Organizational Culture and Leadership. 5th ed. New Jersey: John Wiley and Sons.
Schwartz, S., 1992. Universals in the Content and Structure of Values: Theoretical Advances and Empirical Tests in Twenty Countries. Advances in Experimental Social Psychology, 25(1), pp.1–65.
Theodorson, G. and Theodorson, A., 2020. A Modern Dictionary Of Sociology. New York, NY: Crowell. Toffler, A., 2020. Value Impact Forecaster–A Profession of the Future. In: K. Baler and آ. Rescher, ed., Values and the Future. New York: The Free Press.