Creating an authentic set of personal or corporate values is no easy feat. Aligning with these values in a volatile world is even more difficult.
Sometimes corporate values are created by the executive team, marketing or HR, while sometimes they're created from the bottom up.
Values need to reflect not just aspirational behaviours. Values need to be how we work in good times and bad. They need to be easy enough that we remember them when we are feeling the pressure. They should seamlessly enable agility and decision-making.
After a company has embedded its values into its systems, it should promote those values at every turn. It's been said that employees will not believe a message until they've heard it repeated by executives seven times.

Patrick M. Lencioni, Harvard Business Review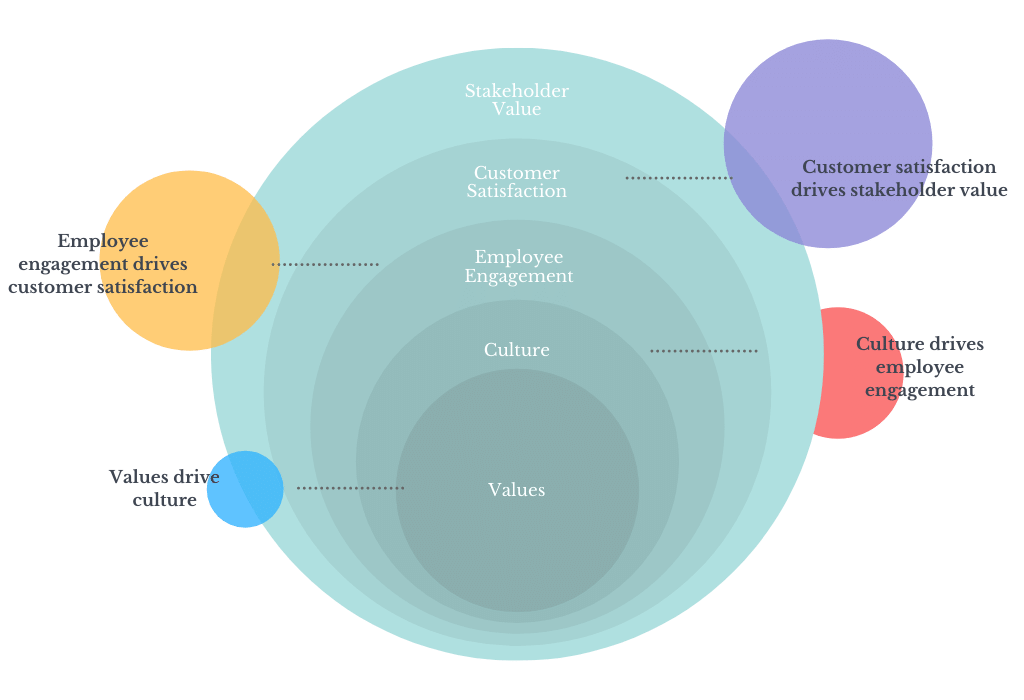 Values Course Options
The Values Institute has created comprehensive training program options to enable you to identify values and then learn how to implement values-based decision making within your organization.
Training formats include:
Online training delivered via our Learning Platform
A live training session, delivered in-person
A live training session, delivered via webinar
Discover Your Values
Unlock the power of collective synergy with our 'Discover Your Values' course. This transformative program begins with a comprehensive values discovery assessment designed to unearth the shared values within your organization. The journey continues with an engaging live session where we delve into these collective values, exploring how they align with your company's purpose and strategy. This course is not just about discovering what matters most to your team; it's about harnessing those values to foster a culture of unity, drive, and commitment.
Ideal for:
Companies looking to refresh their values from the ground up.
Companies wanting to demonstrate their commitment to inclusivity and openness.
New companies and startups.
Fit for Purpose
'Fit for Purpose' is a course designed for organizations that have already identified their core values and are ready to take the next step. This program delves into the critical role of values in decision-making, the intriguing interplay between values and the nervous system, and the practicality of values as micro-habits. We highlight the importance of wellbeing, showing how it intertwines with values to create a healthy, productive work environment. By the end of this course, you'll have a profound understanding of how to leverage your values to create a purpose-driven organization.
Ideal for:
Companies with a defined set of values.
Purpose-driven organizations like BCorps (earn 4 BCorp points by running our program!).
Companies looking to create a culture of values-aligned action.
Leading with Values
Values are not just about what we believe; they're about how we lead. 'Leading with Values' is a dynamic program for anyone seeking practical tools for values-based leadership. This course goes beyond theory, offering tangible strategies to integrate values into your leadership style. You'll learn how to inspire trust, foster collaboration, drive innovation, and cultivate resilience—all rooted in your core values. This course is more than a program; it's a transformative journey that will empower you to lead with authenticity, impact, and integrity.
Ideal for:
Leaders searching for new ways to motivate and engage employees.
Leaders working with Gen Z and, to some extent, Millennials
Any leader looking to expand their capability through an innovative toolkit for human flourishing
Connect with us