Our core values guide us through life, offering purpose and direction. The journey from recognizing to living these values can be daunting. Visualization is one tool that enables us to align our actions with these core values confidently.
Together, let's dive deep, tap into our potential, and bring our deepest aspirations to fruition.
The Essence of Visualization
Unlocking Inner Potential
Visualization can be thought of as a bridge connecting our current self with our aspirational self. Through this mental rehearsal, we not only imagine but deeply feel the embodiment of our core values, consequently engaging both our cognitive and emotional faculties. It's a powerful method that goes beyond mere daydreaming—it's an active practice that shapes our future.
A Tool Across Traditions
The art of visualization isn't a novel concept. It has been utilized across various cultures and traditions for millennia:
Spiritual and Religious Practices: Visualization techniques are found in meditative practices across Buddhism, Christianity, and Hinduism. For instance, Tibetan Buddhism uses detailed 'Thangka' paintings to aid visualization during meditation, focusing on the divine aspects they wish to internalize.
Native and Shamanic Rituals: Indigenous cultures around the world use visualization in their rituals, often accompanied by chanting and dancing, to invoke spirits, seek guidance, or manifest desires.
Modern Sports: Athletes often visualize their performances in detail before an event. They 'see' the racecourse, 'feel' the rhythm of their breath, and 'experience' crossing the finish line victoriously.
Scientific Backing of Visualization
Modern science is now catching up with what ancient traditions have known:
Brain Studies: Research has shown that the brain patterns activated during visualization are remarkably similar to those activated during actual physical performance. This phenomenon is due to the brain's difficulty in distinguishing between vividly imagined and real events.
Sports Psychology: Dr. Richard Suinn, a sports psychologist, documented the use of visualization in the 1976 Winter Olympics. He found that skiers who employed mental imagery alongside physical practice displayed improved performance.
Health and Recovery: Visualization techniques have been applied in medical settings to aid pain management and speed up recovery. For instance, the famous Simonton method encourages cancer patients to visualize their immune cells fighting cancer cells, an approach that has reported improved wellbeing in some cases.
Beyond Mere Imagination
Visualization is more than just an act of imagination—it's a deliberate and conscious choice to shape our reality. By continually envisioning our desired values and outcomes, we lay the foundation for our destiny, steering our aspirations into tangible manifestations.
The Impact of Visualization
Bridging Mind and Spirit
When we engage in visualization, we're not just creating idle daydreams. We're shaping neural pathways and patterns in our minds that prepare us for real-life actions. This mental exercise can provide a harmony between our cognitive understanding and our deeper, spiritual aspirations, ensuring that both are in alignment.
Benefits Across Domains
Enhanced Skill Acquisition and Performance: In sports psychology, athletes who incorporate visualization techniques often report improved performance. By mentally rehearsing various strategies and outcomes, they're better prepared for actual game-day scenarios.
Stress Reduction and Emotional Wellbeing: Visualization can also act as a form of escapism, allowing individuals to retreat into calming scenarios, which can reduce stress and elevate mood. Research has shown that visualizing peaceful and serene places can activate the body's relaxation response.
Increased Problem-solving Abilities: By mentally rehearsing scenarios, people can explore various solutions to problems they might be facing. This cognitive exercise can enhance decision-making abilities and promote innovative solutions.
Boosted Self-confidence: Visualization reinforces the belief that one can achieve desired outcomes, building greater self-efficacy. People who visualize success are often more confident in their abilities to navigate challenges and pursue their goals.
Improved Memory and Learning: Educational psychology suggests that visualization can enhance memory and retention. By creating mental images associated with information, learners can better recall details and concepts.
Enhancing Life's Quality
Visualization doesn't just provide tangible benefits; it enriches our overall life experience. Those who visualize positive outcomes often foster a more optimistic outlook, feeling more prepared, and connected to their paths. This act of mentally preparing and rehearsing, combined with the aforementioned benefits, positions individuals to live more fulfilling, proactive lives.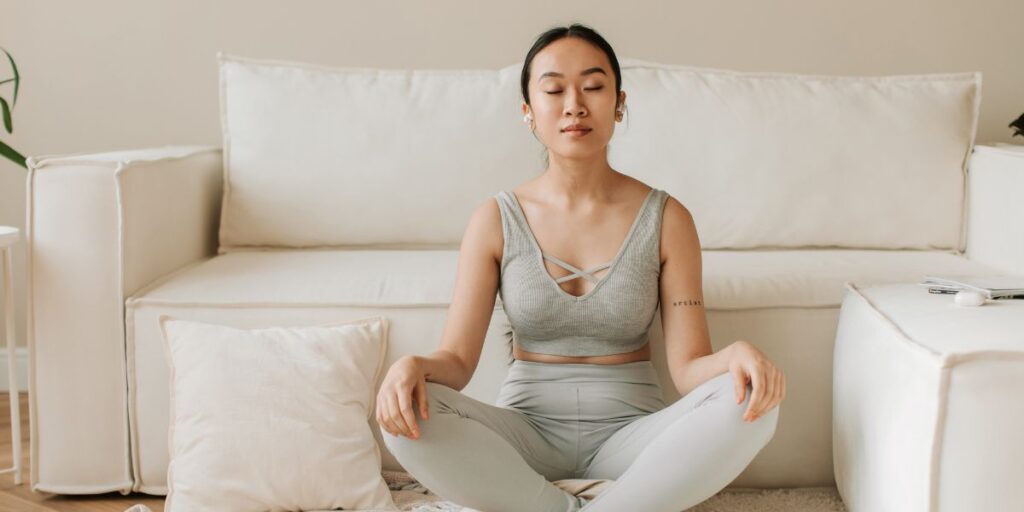 How to Perform Visualization
Visualization is similar to meditation and requires a calm setting and dedicated space. Here are some tips for getting started.
Allocate Dedicated Time
Block time in your calendar so that you are not distracted or tempted by other activities.
Seek a Calm Space
Choose a serene environment where your mind can dream freely.
Relax
Inhale deeply and exhale stress, grounding yourself in the moment's tranquillity.
Conjure Vivid Imagery
Craft a colorful tapestry of actions that resonate with your values, detailing each with sincerity.
Welcome Emotions
Let emotions animate your visions, deepening your bond with your purpose.
Regular Practice
Make visualization a daily habit, refining your mental clarity to unveil your true self.
Visualizing Actions Aligned with Values
Now that you know how to create a visualization space, it's time to try out a Values Visualization. During your visualization session, follow the steps detailed below.
Recognize Your Core Values
Identify the pillars of your core values, such as empathy, integrity, and courage.
Outline Specific Actions
Convert overarching ideals into actionable behaviors that echo your values. Start with your identity. If you value "courage" then say to yourself: I am a courageous person. Think about yourself acting with courage. These are your action steps.
Visualization Scenarios
Immerse yourself in your mind's theater, enacting scenarios driven by values and observing your decision-making processes. Imagine acting in alignment with your values. As a courageous person, I speak my truth in a meeting at work, or help someone who is being bullied. Visualize yourself performing these actions in vivid detail.
Rewards of Visualizing Values
There are many benefits to visualizing values. Here are a few.
Enhanced Clarity
Visualization steers your journey, casting light even in the murkiest times.
Increased Confidence
Mentally practicing value-driven behavior nurtures confidence, equipping you to face any challenge.
Augmented Resilience
Overcoming mental obstacles instills a deep resilience anchored in your core values.
Sharpened Focus
Visualization streamlines focus, reducing diversions until only your values remain.
Intensified Motivation
Seeing your values come alive ignites motivation, propelling you towards purpose and influence.
Conclusion
For those in pursuit of truth and virtue, harness visualization's power to illuminate your core values in every action. Let your imagination soar, intertwining dreams with reality, and goals with authenticity. By marrying actions with values, you become a guiding beacon for others.
Move forward, with your values shining brightly, guiding you towards a life of contentment, influence, and steadfast integrity.